Technology can play a crucial role in headcount utilization, particularly in manufacturing. In fact, for many companies it is the determining factor in the bottom line of profitability and productivity. By focusing on specific work activities, senior leadership can establish benchmarking by strategic and operating indicators. These indicators can then enhance employee development via realignment and streamlining of roles.


This post continues our four-part mini-series in which we teach you how to unravel manufacturing forecast solutions and master them for your business. In our last post, we taught you how to form demand planning. So in this post, we take things a step further and discuss headcount utilization planning for your manufacturing forecast solution.


Why is headcount utilization important in manufacturing?
Regardless of the industry, the importance of strategic workforce scheduling continues to grow. Scheduling employees strategically is critical because the work schedule impacts many aspects of operations, including:


labor costs
productivity
legal compliance
worker retention


This is where headcount planning comes in and why it's vital to the future success of your company. First, headcount utilization helps you understand your resource needs and then create the employee schedule accordingly. Second, it allows you to assign shifts to workers based on skill and availability. And third, it allows you to manage shift schedule changes by making quick adjustments and communicating with your workers.


You can do more with less
The Manufacturing Forecasting Solutions model allows companies to forecast labor input drivers and calculate based off demand. In addition, it allows management to assess whether implementing a capital or efficiency improvement project surrounding headcount has an effect. Since you have already established cost centers, you can now break headcount out by each step within the manufacturing workflow. This can be done by process/function, business unit, or equipment type and will allow the user the ability to analyze imbalances between current personnel and prepare hiring plans to increase productivity.


Lucrative planning for your business
Flexibility forms the foundation of the Human Resource Utilization Solution. The user can decide which benefits to use, as well as the rate and threshold of that rate. But the key differentiator within Vena's solution is its lucrative use as a planning tool.


Notice in Figure 1 below how you can see the variable and/or fixed accounts for each transaction, the calculation method used, the percent of salary, and maximum taxable wage. In just a few clicks, a plant manager can easily find out, for example, the financial impact of promoting that hourly line operator to a salaried manager position. Every time users add an employee through the line item detail, metrics like start date, employee type (salary or hourly), and their respective income rate combined with the merit and benefit information, help the user develop a meaningful and more accurate Headcount Utilization, resulting in better business decisions.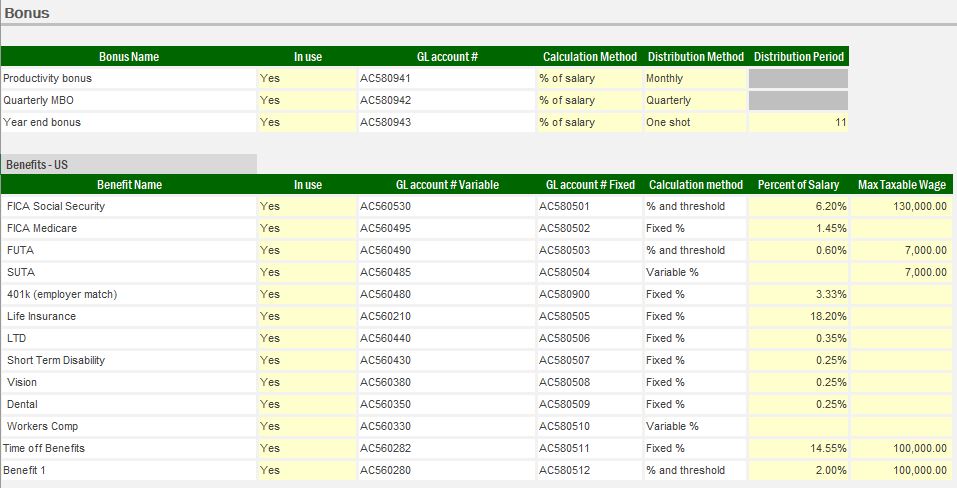 Then, Modelers can leverage metrics to allow the user to build in logic to prorate wages. In the background, this sheet collects two data points: average wage and fringe per head. This allows the user to keep track of actuals and analyze personnel compensation and full-time employee (FTE) headcount. Moreover, the user can identify and prioritize areas for headcount optimization through increased productivity and personnel structure changes.


Headcount Planning optimizes flexibility
Within the Summary tab, quick groupings allow management to see the breakout from a variable and fixed perspective. Moreover, you can also see a deep dive between hourly direct and repair and maintenance employees. Once HR has entered the resources, the plant manager or scheduling supervisor can plan the cost centers accordingly. Within Vena's planner application, you can forecast full heads and even swing workers between processes with a visual representation. As the headcount totals are being saved, it will be represented in their respective months within Budgeting and Financial Forecast Solutions file accordingly.


Conclusion
Headcount Utilization is an area where analyzing data can lead to cost savings for manufacturing companies. For companies with seasonal sales cycles, labor hours may prove more costly if mismanaged. Production adjustments can then be made to better control labor costs. These same labor KPI's can often tie in with overhead costs. Can we increase production earlier in the year to save on labor costs, and if so, does the company really save money (additional warehouse space maybe needed? We will discuss this in greater detail in our next post!